Who remembers Christmas in the 70s and 80s? It seemed a much more of a magical time, especially if you were a child back then. The decorations were more colourful, the TV more exciting, the toys more special, and the turkey more… enormous!
It was a different era – back then people did not always get expensive food and gifts all the year round, so it stood out to most as a more distinctive time of year. One where all your dreams would literally come true. It was a time of having butter instead of margarine, a major wish list gift, and the big film on the TV.
So do read on for my top 10 memories of Christmas in the 70s and 80s. Get your highlighter ready, set the video recorder, and put your party hat on as you remember those distinctive times!
1. Argos Catalogue
We grew up without the internet, so wish lists were very much a manual thing in the 70s and 80s. As well as your written list for Santa, the easiest way to show your parents (or Santa) what you wanted was to get out a biro and circle the items in the Argos catalogue with your name next to it! This was the Amazon of it's day and it had everything from jewellery, to bedding, to toys and games, to hi-fi equipment and other electricals. You ordered the items from the catalogue directly in the shop too, using a little slip where you inputted the catalogue number using one of their little blue pens. On taking this to the till, they inputted it and sent your order to to the warehouse in the back of the shop. Minutes later your item was available to collect!
2. Radio or TV Times
This was THE place to plan all of your Christmas viewing. The 70s and 80s were the era of massive Christmas specials from the likes of Morecombe and Wise, Gthe Two Ronnies, Mike Yarwood, Only Fools and Horses, Eastenders, and of course the big Christmas film. TV was the only way to watch most visual media in your homes back then, and these shows attracted massive viewing figures. Most families huddled round one TV set too, so it was a real event! Usually, if you were posh, you got the Radio Times, and if not, it was the TV Times.
3. Decorated Christmas Cake
Back in the day a Christmas cake looked like a Christmas cake! What I mean is, it seemed much more festive. Icing was made to look like snow with little peaks, and the little miniature decorations came out of the cupboard to make a 3D Christmas scene on top. A festive paper surround or ribbon topped it off, as your Mum brought out her famous creation at teatime on Christmas day!
4. Christmas Tree
Forget your colour co-ordinated or themed Christmas tree! No decorations matched in the 70s and 80s, probably because they had been around for a long time in the attic and added to gradually each year. The colour scheme of the day was multi-colour and this included the fairy lights, tinsel, baubles and anything else. Woolworths was also the place to get them, and there were certainly no real Christmas trees – artificial all the way!
5. Foil Decorations
Who couldn't forget ceilings festooned with colourful garlands from this time? All sorts of colours and shapes of pull-out concertina decorations were a must, in your home or the office in the 70s and 80s. Not forgetting a foil lantern or four to complete the look, either at each corner or in the centre. Held up with drawing pins or Sellotape, they often fell down also, or if they managed to stay up, taller people would walk into them and pull them down instead!
6. Selection Boxes
Just like today Christmas was the time of year that chocolate manufacturers like Mars and Cadbury went to town packaging all their chocolate products in creative ways. The selection box was born! Kids couldn't wait for their favourite treats, and the adults probably nicked a few too. All the chocolate bars were there, Marathon, Relays, Mars Bar, Opal Fruits etc – some still exist today, some have undergone name changes and some have been discontinued.
7. Smellies as Gifts
So some people were easy to buy a Christmas gift for, some were not. This was usually your Dad, Auntie or Gran! No problem however, the retailers were here to save the day! Smellies (or fragranced toiletries, perfume etc) in a pre-packaged gift set were an easy way to show you cared, without having to think too much lol. Top points go to The Body Shop in the 80s for their gift baskets idea, copied by many, and who can forget bath cubes or bath oils? Men's fragrance was at its peak in this time too with classics like Brut, Old Spice and Hai Karate as old favourites.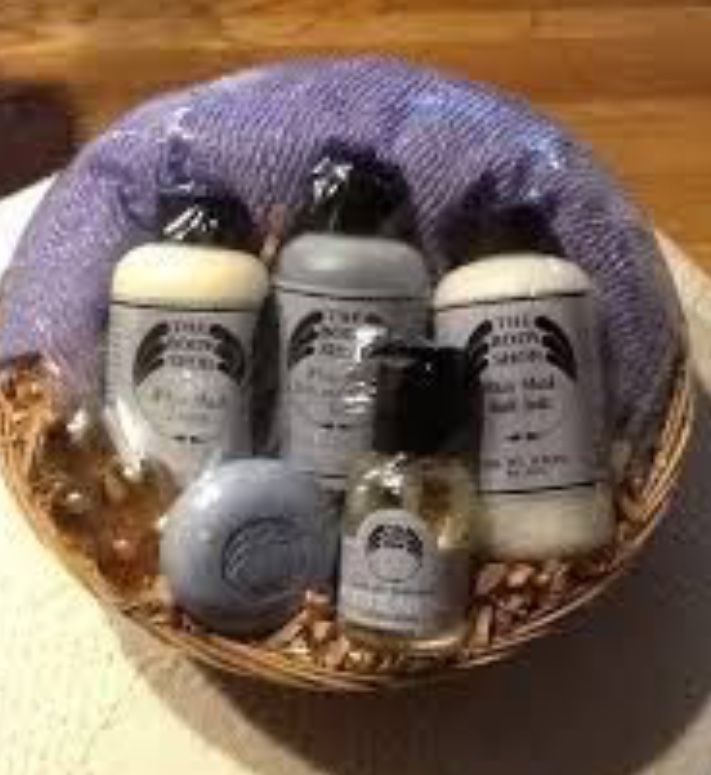 8. Nativity Play
Every year the kids would take part in a Nativity play at school for the parents and it was one of the cutest things ever! To tell the Christmas story, there would be a child chosen to play the top roles of Mary and Joseph. These were usually the better looking, or most popular kids in the school (yes inclusivity hadn't caught up with us yet). Then other girls were chosen to be angels (dressed in gown made of white sheets and tinsel halos), and boys to be shepherds (with a teatowl as a headscarf tied with string), or a king (with a home made crown). The villain of the piece was King Herod and there might have been a Rudolph and Santa too. Cute delivery of lines, or not and a little song to top it off made it the school event of the year.
9. Christmas Tipples
During this era we drank many a tipple at Christmas that we wouldn't have done at any other time of year! The Snowball cocktail comes to mind, with its mixture of Advocaat, lemonade, lime juice and a glace cherry to top it off! This was probably the first drink that many of us tried too, as our mum or gran gave it to us as a little treat to join in with the adults. It tasted a bit like cream soda. Various fun cocktail paraphernalia accompanied this ritual too, to complete your home bar – such as ice buckets, cocktail sticks, soda syphons and cocktail shakers.
10. Christmas Number 1
The 70s and 80s were probably the heyday of Christmas songs. Pop stars and bands all competed with each other to get the number one slot for 25th December. This would be announced on the Christmas Day edition of Top of the Pops and was a massive event!  Previous Christmas number ones include Merry Christmas Everybody by Slade, Mull of Kintyre by Wings, Last Christmas by Wham and Do They Know its Christmas? by Band Aid. Unfortunately many of these ended up on Christmas song lists in shops, offices and compilation records at the time, being played to death over the period! This resulted in you being fed up them by Christmas day! 
I hope you will agree with me that Christmas was in its own unique little box during the 70s and 80s. It was a time that will never be repeated, and I am glad of the memories! What were your favourite memories of the time? Let me know in the comments.