Well, what a week its been! It certainly feels we are living in strange times at the moment, what with the events surrounding the Coronavirus. I hope that you are all managing to look after yourselves and have found enough loo roll supplies! 😉
Anyway, for my new blog, I am still experimenting with ideas, so I thought this week I would do a round up of the items I have recently listed to my etsy shop, along with a bit more information about each. Let me know what you think? Then I might do this every Friday if it seems popular. This week I found some of my signature colourful and funky kitchenalia. So get ready and grab a cuppa to comfort yourself with nostalgic memories whilst we batten down the hatches and weather the storm!
1. Red Whistling Kettle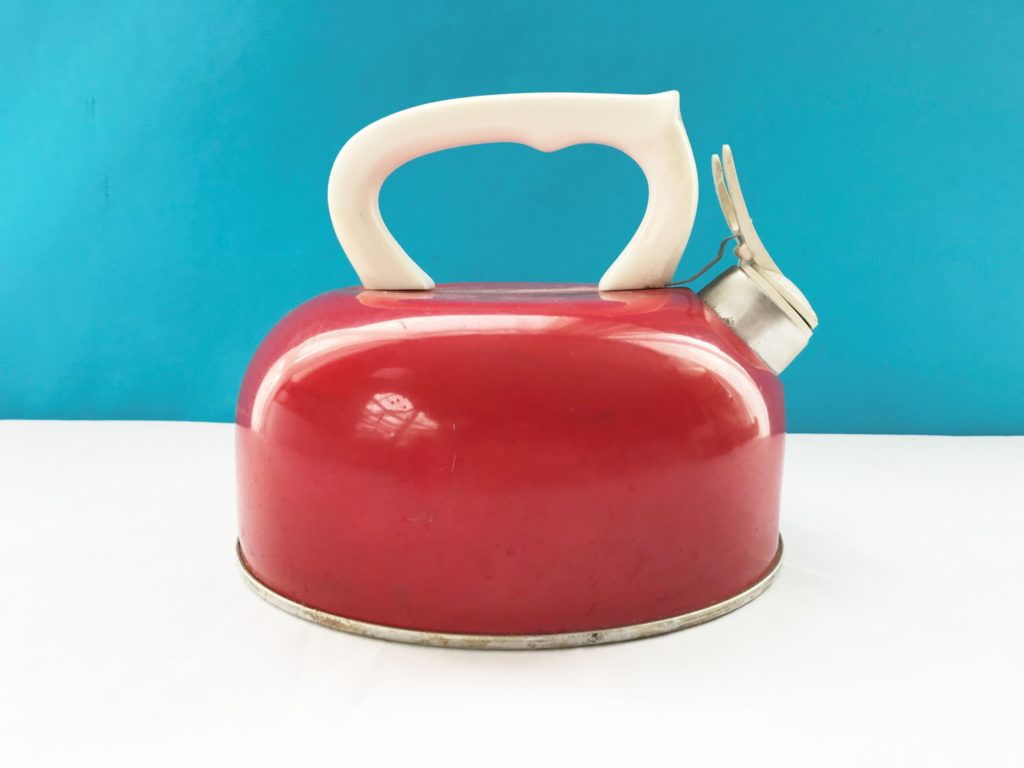 These classic kettles were what people used, before plug-in electric ones. They sat on top of the stove and when the water boiled, a whistling sound came out via the spout to tell you it was ready! Now popular for camping stoves and campervans, this fab example made from aluminium with plastic handle, will complement your trip perfectly ☺
Buy now at https://www.etsy.com/listing/786225581/vintage-whistling-kettle-red-stove-top
2. Toni Raymond Utensil Holder
Toni Raymond pottery started in Devon, in 1951 and were known for bright hand painted ceramics, a signature look for the post war era. Their most recognisable items included celery vases, pickled onion pots and mexican salt and pepper shakers. This lovely kitchen utensils pot from their range will surely brighten your modern vintage kitchen!
Buy now at https://www.etsy.com/listing/786226539/vintage-utensil-holder-pot-toni-raymond
3. Flower Power Melamine Chopping Board
No kitchen in the 60s and 70s was complete without brightly coloured melamine items, usually with matching designs! This chopping board is in a fab blue flower power pattern, which was also used on crockery, saucepans etc. Its in fabulous condition with no scratches or chips and even if you don't want to use it as a chopping board it would make great wall art in a collection!
Buy now at https://www.etsy.com/listing/786228199/vintage-melamine-chopping-board-round
4. Italian Milk Glass Storage Containers by Decor Giorgi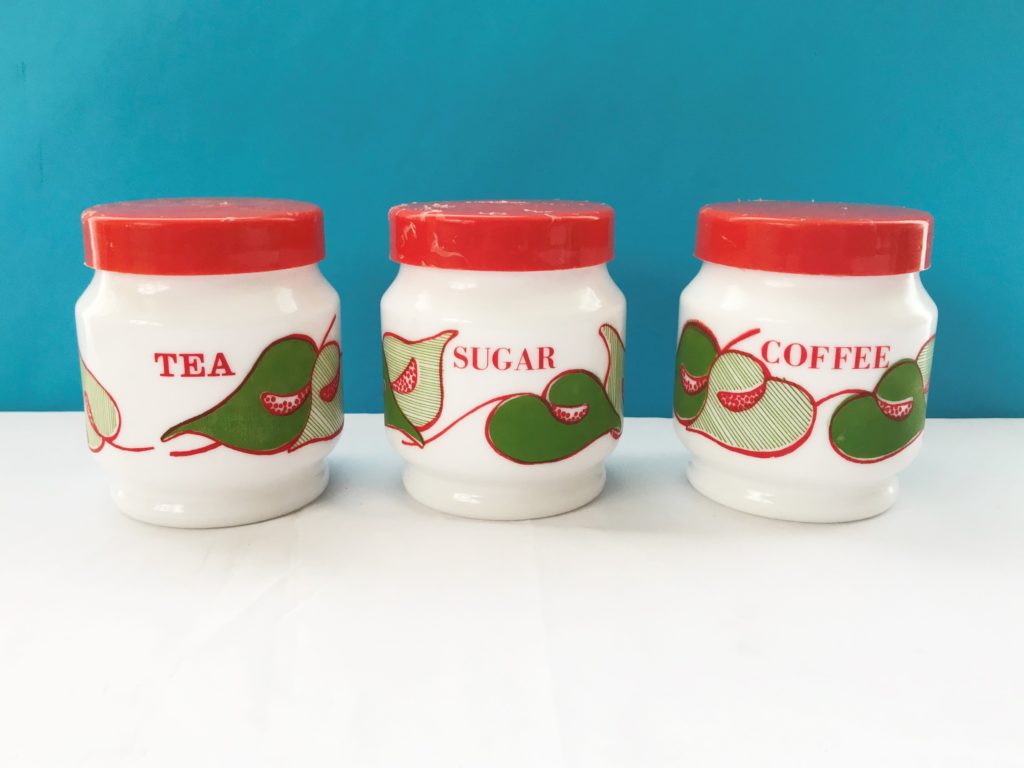 These are very unusual and I haven't come across this maker before! Made in Italy from milk glass with plastic lids, they are hand painted with a bright green leaf pattern and transfer lettering. The maker is Decor Giorgi and the only other examples I have found online are more conservative pots with floral designs. The lids are a bit tatty, but I think these are great examples of 70s kitchenalia that certainly no one else will have in their kitchen!
Buy now at https://www.etsy.com/listing/786232769/vintage-storage-containers-x-3-tea
5. Vintage Tupperware
Who doesn't love a bit of retro tupperware! Instantly providing nostalgic memories, this week I have a classic grater / slicer bowl in jadeite green. You grate your cheese or vegetables etc on top of the bowl using the grater attachment, then can seal the contents with the handy airtight lid. I also have a set of two of the stackable condiment pots. Perfect for storing salt & pepper, herbs and spices etc, with a ready made shaker lid!
Buy the grater now at https://www.etsy.com/listing/772347188/vintage-tupperware-grater-slicer-bowl
Buy the condiment pots now at https://www.etsy.com/listing/786230773/vintage-tupperware-shakers-herb
That's it! Hope you have enjoyed this weeks roundup. If there is anything in particular you are looking for don't hesitate to contact me. I am also interested if you have any feedback on my new blog and / or suggestions for what you might like to see in future.
This post is written by Rachel Toy, owner of Rachel's Vintage & Retro. I am a vintage enthusiast writing about a Vintage Lifestyle, focusing on the Vintage Home. I also sell a wide variety of vintage household items from kitchenalia, to homewares such as linens, mid century glass, brewerania, furniture and collectable toys on my Etsy Shop.