We all know Tupperware, those bright plastic containers with innovative designs, that our grandmas, mothers, aunties etc all used to keep food fresh back in the day. They may have even thrown a Tupperware party, or been to one, playing ice breaker games then browsing through catalogues deciding what to buy from a hostess.
In April 2023 Tupperware announced it may go bust unless it could obtain emergency funds. If it does, it would be a very sad loss of an iconic company that created products that were part of our lives in the second half of the 20th Century. They are still sought after as collectable kitchenalia items and have stood the test of time in terms of quality.
But how did it all start? In 1947, inventor Earl Tupper patented his first plastic food storage container with airtight 'burping' seal, the Wonderlier Bowl. The first bell shaped plastic tumbler was also introduced, available with lid and / or drinking nozzle for smaller mouths.
Tupper owned his own plastics company previously and in 1945 and was keen to find a new use for polyethylene plastic, previously reserved for military use during WW2. The material was strong, and clean to use, as well as being resistant to leaks. This gave him the idea that it would be ideal for food storage. He soon developed an injection moulding technique to shape the plastic into bowls, kitchen containers and lids. The containers were chic and modern and tinted with pastel colours or frosty white tones.


When the products were first introduced, they had a good reception from media publications such as TIME magazine and House Beautiful. However, they were not picked up by the target demographic initially, mainly because it was such a new product and needed a demonstration on how to use. Department stores complained they took too long to sell, and the products soon gathered dust on the shelves. Brownie Wise had worked for a company for Stanley Home Products, who were the first to develop a way to demonstrate products to consumers via an informal gathering at home.
She took this model to Tupperware and created the first Tupperware parties, a multi-level marketing strategy with rewards for hosts and hostesses. Regular 'Jubilee' parties for the female hostesses were also a way to celebrate their success and became a way to empower women to work for themselves, but in the familiar domestic sphere. In 1951 Earl Tupper abandoned in store sales and shifted to direct sales only. Wise headed up this new party sales division and created Tupperware Parties Inc. She became Vice President and was also the first businesswoman to appear on the cover of Business Week magazine.
Tupperware spread to Europe in the 1960s. By this time the Millionaire range had been introduced, with iconic atomic era designs like the salt and pepper pot on a stand. Mila Pond hosted the first UK party in Weybridge, Surrey and soon more parties were booked throughout the world. Hostesses back then had to conform to a strict dress code of skirts and stockings/tights to be worn at all times. The parties included innovative product demonstrations. These included turning the product upside down to prove it didn't leak, dropping the bowls on a hard kitchen floor and how to properly 'burp' the seal. Door to door saleswomen would also challenge housewives to store carrots in one of their products and compare to their existing containers for freshness. This was called 'carrot calling' and inevitably led to more parties being booked.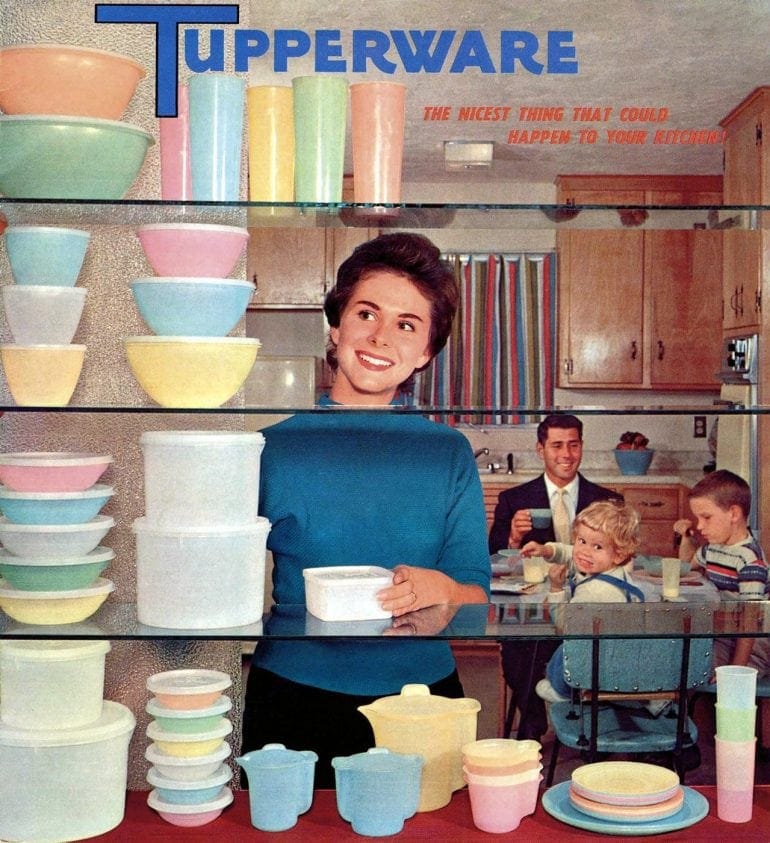 In the late 1960s the Servalier range was introduced with its famous fan lids that only needed one push to seal. They came in a range of bright colours such as yellow and orange with floral motif on the main container. By the 1980s more earthy colours such as browns, burnt orange and reds were available.
Other innovative products included the Crisp It bowl designed to keep lettuce fresh and Ice Tups for making ice lollies in the freezer. Various party ware and serving trays could be found too, reflecting the changing times. In the 1980s they even introduced a range that could be used in the oven.
By 1958 Tupper and Wise had fallen out and he sold the company to Rexall Drug company. This then became Dart Industries in 1977 and soon merged with Kraft Inc. After demerging, it became Premark International and a new company, Tupperware Brands was created in 1996. By then, Tupperware experimented with selling direct via catalogues and online, but in the UK customers were dissatisfied with their sales model. In 2003 operations were closed down in the UK and Ireland with an attempt at relaunch in 2011, which was cancelled after lack of interest. Since then the company has continued to develop new products alongside its best sellers. This included items specific to more international customers, as well as older people. However, it had struggled with competition from newer brands, cheaper products and its ability to appeal to younger customers.
Vintage Tupperware however, remains very collectable. It's stood the test of time and many people have held on to their products, still using them today. The bright colours and kitsch designs mark an era of domestic simplicity that is a symbol of the past and the items often invoke fond childhood memories. The Wonderlier range remains very popular and a set of bowls can sell for £25 – £50. A slight word of warning though when using older plastics as the surface can break down, releasing chemicals. Plus the seals may no longer be airtight as the plastic expands or shrinks. They still make great storage containers, although perhaps not for food so much. You can still buy new servalier bowls etc, but perhaps for not much longer with the news this month.
This blog post is written by Rachel Toy, owner of Rachel's Vintage & Retro. I am a vintage enthusiast writing about a Vintage Lifestyle, focusing on the Vintage Home. I also sell a wide variety of vintage household items from kitchenalia, to homewares such as linens, glassware, barware, occasional furniture and collectable toys from my Vintage Website and Social Media.