I shared a rare glimpse of my vintage home with you all on my social media recently, mainly as I have been spring cleaning and it's looking all lovely and sparkly at the moment! I was humbled by all your lovely comments thank you, so thought I would give you some insights this week into how I created my cosy, vintage eclectic look.
Firstly, I have been collecting vintage items for a long time, about 25 years now, so don't expect to immediately amass a large collection of items for every surface like I have here Most vintage items will be chance finds, one offs, or take a few years to find, like my treasured brass pineapple! The items I have in my home are as a result of regular and consistent visits to vintage fairs, car boot sales and charity shops over the years. It should be a cheap enjoyable hobby and is hard to find a collection all in one go, unless you have a large budget or a sourcing team.
Secondly, I am a graphic designer by trade so I understand use of colour and layout to make things look attractive. I've also had experience with visual merchandising when I had a space in an antiques centre. Therefore don't worry if you find it hard to get it just right straight away, as practice and experience makes perfect!
There are various ways to display objects and the principles I am going to share with you can also be mixed and matched. So without further ado, here are my top tips for how to display your vintage treasures in your home. I will leave it up to you to fine tune, according to your own tastes!
1. Arrange objects by colour
Now I am going to share a little trade secret with you, and that is the colour wheel. This was invented in 1666 by Isaac Newton and maps all the colours of the spectrum in to a circle, showing the relationship between them. It's how artists and designers find the perfect combination of colours for projects and you can use it in your own home too!
The trick is to use the colours in certain ways, that are complementary to each other. Colours that are next to each other in the wheel, or opposite, or even in a triad or quadratic form have a natural affinity that works well in combination. You can also use various shades of a colour in the monochromatic range. For example:
Green and Purple
Orange and Yellow
Red, Green and Blue
Lilac, Purple and Blue
Dark Yellow, to mid shades, to lighter ones
Ever wondered why orange and brown was so popular in the 70s? Well there is your answer, as they are colours that complement each other well (orange and blue which are opposite each other on the wheel make brown).
With this in mind, try to arrange your vintage objects in a group that include colours that complement each other. For example, orange and brown kitchenware, groups of different shades of blue glass bottles etc. These principles are so ingrained in my mind now that I tend to do them naturally and you will probably get to that stage too!
You can find out more about colour theory and use a handy calculator on the Canva website here: https://www.canva.com/colors/color-wheel/
2. Group objects by size
To create the ideal composition of items and help fill a space in your home, it is a good idea to arrange your objects by size order. For example, put the taller objects at the back, with the smaller ones at the front, and / or a range of sizes graduating in between. This gives a sense of depth and is similar to artists composition. The old masters would paint in a triangular format (echoing the Christian Trinity), which was known to be pleasing to the eye. In the example below I have also added a picture behind the objects on the shelf, to bring the height upwards, rather than having just a plain wall behind it. As you can see I have also grouped these objects by similar colours like I suggested above, with reds, whites and pinks. Alternatively, if you prefer order to things, you could group objects of the same height in a row. The possibilities are endless!
3. Group similar items together
If you have a collection of items, such as I have here with my favourite Hornsea range, Heirloom, a pleasing display can be created by grouping them together. These can be items with similar patterns, motifs, a group of the same type of items, or even items as above with similar colours, or sizes. The result is a pleasing talking point in your home!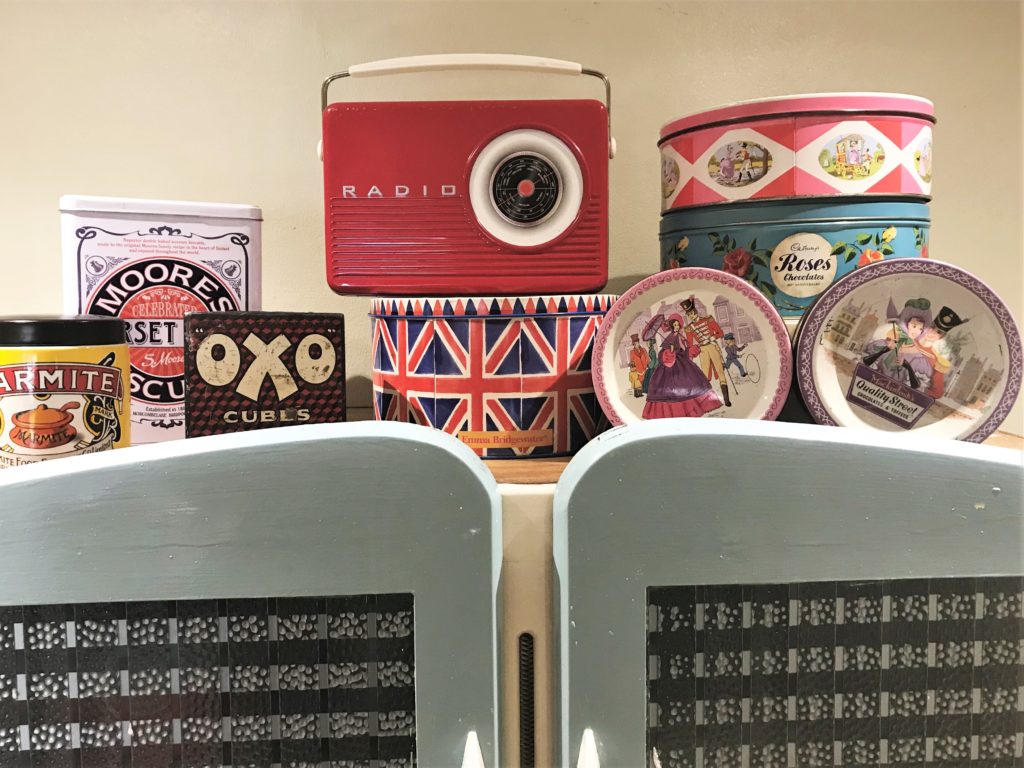 4. Create a feature wall
By no means should your displays be limited to the horizontal surfaces you have in your home. I like to make use of the vertical too, again to create depth and interest. A good way to do this is to create a feature wall! Here you can see I have used my principles above to group similar items together, and not just pictures either! I like birds, floral and vintage lady pictures so they make a natural collection anyway. I have combined different sizes, along with interesting items inter spaced in between such as my cow bell, fan, doll and the Spanish tiles / trivets. Don't be scared to over do it too! The more the merrier in my book 🙂
5. Create a display shelf
One of the popular social media hashtags of recent years is #shelfie (in case you don't get it that's a take on selfie, but obviously a picture of your shelf, not your face!). If you have some empty shelves in your home; a bookcase, ladderax system, alcove or even some just attached to a wall, by using the rules above, you can not only create a pleasing display to look at, but will also gain instant recognition for your efforts by sharing a photo of it with your followers! Following the hashtag too will give you some ideas. Below are some contenders for my very own #shelfies!
6. Use lighting to highlight areas
It depends on how much light you have naturally in your home, but sometimes you might need help from artificial light to help highlight key areas. Small spotlights or fairy lights also create interest, and you can get some fabulous neon signs these days which all help the overall vintage theme! Make sure you have enough lamps to make it cosy (again which can be vintage, and the addition of an old lamp shade will give you the opportunity to cram even more vintage in!). If you want to save money on your electricity bill, and be environmentally friendly, make sure you use LED or energy saving lightbulbs.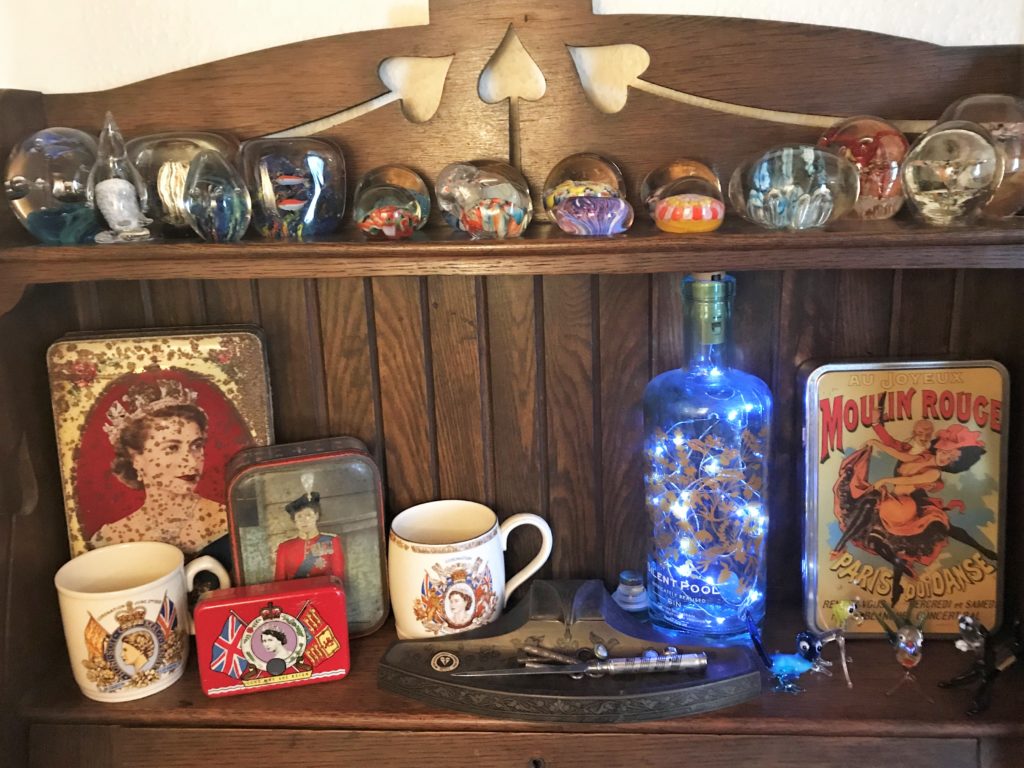 7. Use textiles for depth
Finally, no vintage home would be complete without textiles, from your curtains, to cushion covers, throws and bedspreads. Look out for them next time you visit a vintage fair or charity shop and you will soon have a collection that you can use to drape over things, again which all help to create a warm cosy feeling to your home. Vintage curtains will instantly transform a room, and make it look much more authentic too! When shopping for textiles, look for different textures, designs and colours. They don't have to all match either, but do let them have some sort of link, whether in style or size. For example I like sumptuous fabrics such as velvet, natural wool and embroidered, mainly in reds such as burgundy and all have a bohemian exotic look.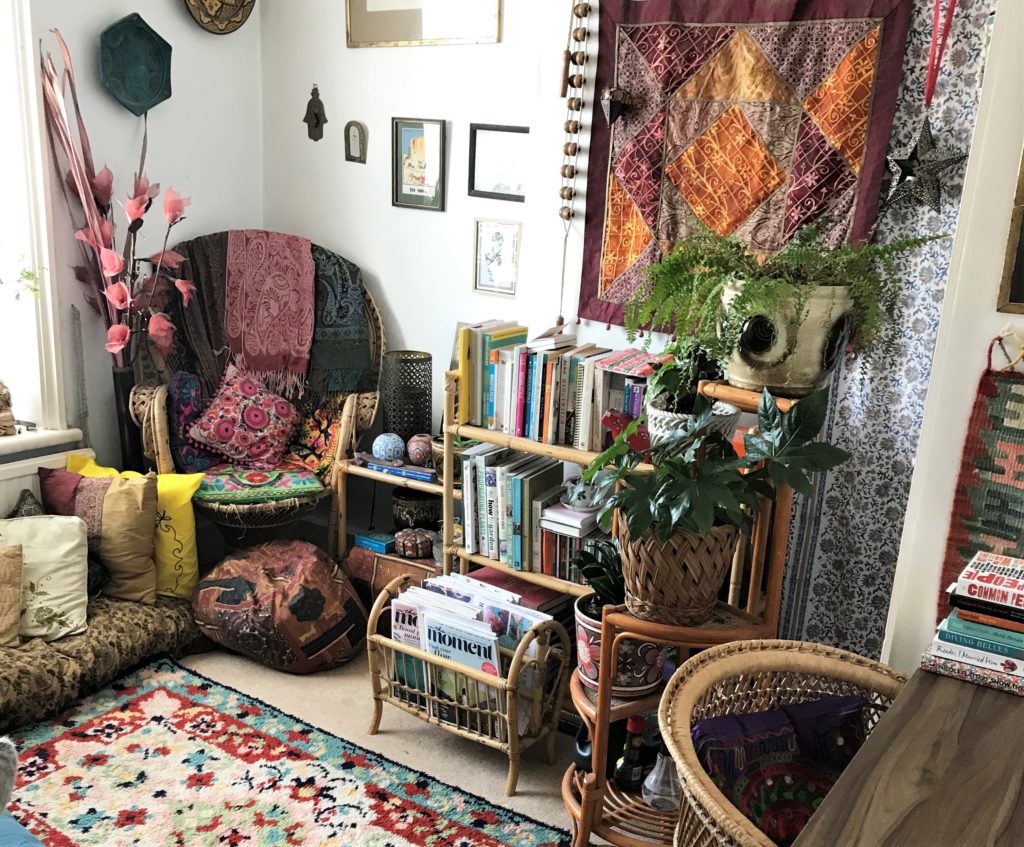 So there we have it, my top tips for displaying vintage items in your home. I hope you have found it helpful, let me know in the comments if you have any more questions, or have other tips you would like to share.
This post is written by Rachel Toy, owner of Rachel's Vintage & Retro. I am a vintage enthusiast writing about a Vintage Lifestyle, focusing on the Vintage Home. I also sell a wide variety of vintage household items from kitchenalia, to homewares such as linens, mid century glass, brewerania, furniture and collectable toys on my Etsy Shop.