If you are looking to have an authentic vintage style kitchen in your home, or even just add a few vintage touches to your existing kitchen, there are a few essential items you wouldn't want to be without. Read on to find out which vintage kitchenalia items, makers and styles are currently the most popular, along with a guide on what prices to pay…
Skyline / Prestige Utensils
Who doesn't remember these robust and colourful kitchen utensils? Made originally in the 30s with wooden painted handles, then later in fashionable plastic colours like orange and blue, they have become a design classic which many people still like to use today. These stainless steel utensils were fun and often included innovative designs, like this serving spoon below with measurements etched on the surface. You will probably find lots of odd utensils around which would make a great collection displayed in an old stoneware jar or pot, or if you are lucky you might just find a full set in their original box, which would look great hung up on your kitchen wall! Prices vary but you can usually find individual utensils from £2 – £8 each. A full Skyline boxed set is likely to be in the region of £25 or more.
Retro Coffee Pots & Other Crockery
Ceramic Retro Coffee Pots are mostly a kitchen shelf collectable display item these days, rather than for actual use. However the reason for their popularity is the fabulous designs and shapes you can find. Often created by the best ceramics designers of the day like Jessie Tait, Terence Conran, John Clappison etc they covered a range of themes such as funky flower power patterns, cafe scenes and atomic / abstract shapes. Look out for makers such as J&G Meakin (who produced lovely elongated pots), Midwinter (who came up with the classic 'fashion shape' in the 50s) and Hornsea (known for their earthy and spicy tones). A full matching dinner set is often no longer required as people now tend to mix and match odd bits of crockery in the kitchen, such as jugs, plates, bowls, mugs and serving tureens. Expect to pay £15-£20 for a coffee pot / tureen, £2-£8 for individual plates, jugs £2 – £15 and mugs around £3-£8 each depending on the maker, rareness and popularity of design.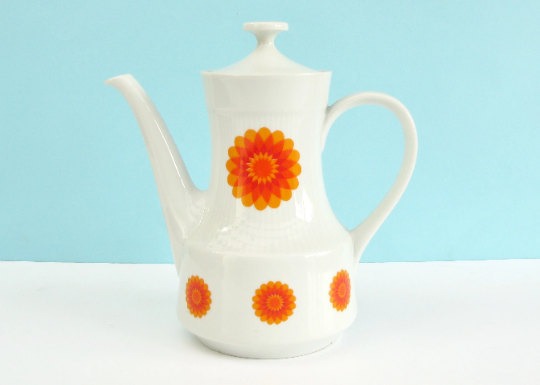 Funky Storage Containers
These were so much more fun back in the day and come in a range of designs, colours and materials such as pottery, plastic, metal and glass. Mostly they were made for storing dry foodstuffs like Tea, Coffee, Sugar, Flour, Biscuits and Herbs/Spices. Makers included Hornsea, Crown Devon, Tupperware and Pyrex. You will find them in 70s earthy tones, to funky flower power, geometric or food designs. Ceramic storage containers usually had wooden lids with rubber seals designed to keep items inside fresh, then there was the classic air tight seal for plastic items like Tupperware, or a simple screw top lid for pyrex and glass jars. Lots of people still use them for their original purpose today or just as a fun ornament for the kitchen. Look out also for fun face pots from the 70s, made by Sylvac, Price Kensington etc to store and serve various salad items like Pickled Onions, Beetroot, Apple and Bread Sauces. Prices vary from about £5 – £25, again depending on maker and how unusual or sought after a piece / full set is.
Melamine
No vintage kitchen is complete without a melamine item or ten! This easy clean plastic material had a variety of uses. Marks and Spencer used it for the top of table mats and chopping boards, often with a cork or wooden back, or as the main material for wipe clean trays with a variety of fashionable designs. Prices range from about £15 for a set of mats, to £6 – £12 for a chopping board and £15 -£20 for some of the more funky trays.
Melamine was also used to make lightweight picnic items like cups and saucers, cruet sets and butter dishes – perfect for a vintage campervan or caravan kitchen. Look for bright colours like oranges, blues, yellows, greens and also pastel ice cream colours from the 50s. Gaydon Melmex is one of the most famous makers and very affordable to start a collection. Expect to pay around £3 for a plate, £5 – £6 for a cup and saucer, to around £8 – £10 for a butter dish or cruet set.
Tin Trays and Vintage Tins
Tin trays were almost always found in a vintage kitchen. For serving food, drinks and transporting items from one place to another, trays again came in a variety of unique designs and colours – from kitsch and atomic, to florals, to nature scenes, characters and oriental patterns. Most are still robust enough to be used today and a collection of colourful trays would look great on the kitchen wall as unusual wall art!
A vintage tin is universally useful too with unlimited storage options, and look great as a display on a shelf. Often the same design was used for a range of metal items from a store or maker such as biscuit barrels and coffee / tea / sugar cannisters.
Tray prices £6 – £20, vintage tin prices can vary depending on size, age and collectability – expect £2 for a small food advertising tin, to £20 – £30 for some older larger examples.
Linens & Tableware
If you want the full vintage experience in your vintage themed kitchen, then the finishing touches would have to be vintage linens and other tableware. You will find tea towels, napkins, tablecloths in the linen department, to stainless steel cutlery made by quality makers like Viners, to fun cruet sets that you can use or just have a collection of displayed on your kitchen shelf! Tea Towels were usually Irish Linen with wonderful designs and quite a few created as holiday souvenirs. Napkins would be designed to match a tablecloth, early ones would be hand embroidered from a transfer pattern, later ones using modern printing techniques to get the bright colours. Why not treat yourself and have your dinner at a fully made up vintage table one evening – you will find it's so much more fun! Cruet sets average price £5 – £10, tablecloths £5 – £20, tea towels £5-£10 depending on design and popularity.
Enamel Pots and Pans
Back in the day, cooking pots tended to me made from enamel rather than the innovative non stick materials we are used to today. In the 30s and 40s you would find enamel saucepans and casserole dishes in cream with a green trim, or classic white with blue. Makers included Judge and Kockums. As we went into the 50s, 60s and 70s printed, brighter designs became the norm. Look out for funky flower power and abstract patterns in oranges, blues, browns etc. Scandinavian design is enduringly popular with Catherineholm pieces arguably the most sought after with prices at around £35 – £50 for just one saucepan! A full set of saucepans tended to be expensive and an item to save up for, so they were often well looked after, and hence can often still be used today! Prices: approx £5 – £25 for a saucepan, £15 – 20 for a casserole dish (excluding Catherineholm above!).
Of course there are many more kitchen essential items I have probably not covered in this post, and prices do vary considerably, depending on where you buy, but do feel free to take this as a guide! Good luck setting up your vintage kitchen and feel free to let me know your own examples and memories in the comment section below!
This post is written by Rachel Toy, owner of Rachel's Vintage & Retro. I am a vintage enthusiast writing about a Vintage Lifestyle, focusing on the Vintage Home. I also sell a wide variety of vintage household items from kitchenalia, to homewares such as linens, mid century glass, brewerania, furniture and collectable toys on my Etsy Shop.