A few years before they employed a young upcoming British glass designer, James Baxter, to create some of their most iconic pieces, Whitefriars Glass were one of businesses chosen to exhibit at The Festival of Britain in 1951.
This iconic British festival represented a break from the past after the economic gloom of the Second World War and was backed by The Arts Council of Britain. The aim was to showcase the best of new British design and industry and it had a massive impact on people's perception of design, especially for the home, throughout the 1950s and beyond.
Similar things were happening post war Scandinavia, Italy, Czechoslovakia, and the USA. A new optimism brought in waves of young glass designers working for traditional factories such as Murano in Italy, who would experiment with new glass making techniques, designs and colour.
The modern consumer, too was beginning to understand the value of good design, creating a new approach to modern living. This along with increased aspiration, wealth and spending power, set the scene for a huge growth in glass design and production throughout Europe and beyond.
What to collect
Those wishing to start a collection of mid-century glass will find it is possible to collect by designer, factory, technique, and country. Each of these areas had an impact on how the piece would look, making them instantly recognisable and desirable items for the home.
In Italy, glass had been made for centuries in the region of Murano in Venice. However new designers in the 1950s began to experiment with more modern organic shapes and brighter colours, which were perfect for the modern consumer.
A new Sommerso (meaning 'submerged') technique, which cased one piece of coloured glass inside a clear layer, had been around since the 1930s, but became popular in the 1950s thanks to the work of Flavio Poli. His pieces, along with other influential designers such as Dino Martens and Flavio Bianconi are now very sought after and command high prices today, ranging from £200 to £5000-£6000.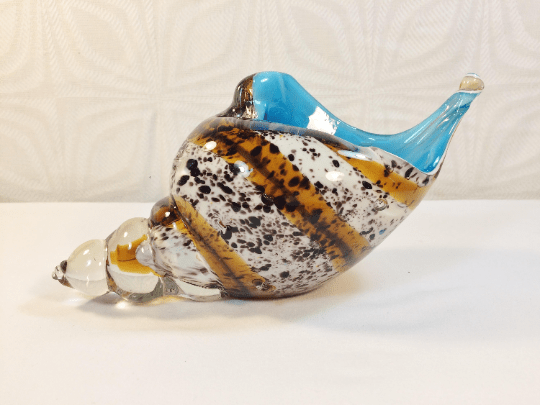 Murano still make pieces today, so collectors should be aware of this, and also cheap Chinese copies. Murano also made a lot of less expensive tourist glassware in the 1950s and 1960s such as swirly patterned fish, clowns and various animals. These are popular with collectors of kitsch but are not worth as much as those pieces from the top designers mentioned above. You can still pick these up cheaply from eBay, charity shops and vintage fairs, so can be a good way to start a collection.
In the 1960s as a new studio glass movement came along, led by US designer Harvey Littleton, Italian glass designers started to experiment and create more funky, colourful art glass forms influenced by the Pop Art movement. Some of the most famous Italian pieces of this time are Allesandro Pianon's quirky bird designs for the Vistosi glassworks. There were five different birds in the series and they still command high prices today, currently in the region of £2000-£6000.
Scandinavian glass designers in the 1950s meanwhile, were more influenced by abstract, natural forms. Finnish design began to be exported around the world after winning multiple prizes at the Milan Triennale of 1951. Leading designers such as Tapio Wirkkala and Timo Sarpaneva both created abstract sculptures for Finland's most famous glass factory Littala. Some of Wikkala's most famous are his iceberg vases with their jagged edges mirroring the Finnish landscape. Sarapeneva created the 'Orchid' vase, now regarded as a design icon, as well as the Kayak vase in 1953 which is now exceedingly rare and desirable. Prices for these all range from £200 to £8000 for perfect examples.
Gunnel Nyman, another founder of modern Finnish glass design, was the first to develop the bubble glass technique (where small bubbles are formed and deliberately left inside the surface of the glass), which was then often imitated by others.
In Sweden, the Orrefors factory employed many, soon to be important, designers whose work tended to display typical Swedish precision of design and exceptional quality, mainly in engraving and cut-glass work.
By the 1960s, Scandinavian designers were also influenced by the Pop Art movement, and factories like Holmegaard in Denmark and Kosta Boda in Sweden, began to experiment with coloured and textured glass – all the while keeping their good design and high-quality ethos. The Ariel technique, first developed by Edvin Öhrström in the 1930s, where an image was suspended in the glass walls of a cased vase, also continued to be developed.
More designers to look out for are Vicke Lindstrand, Sven Palmqvist and Ingebord Lundin (the first female designer at Orrefors).
In Britain, Whitefriars led the way in manufacturing a new style of glass that younger consumers were expecting, helped by upcoming designer Geoffrey Baxter, whom the company hired straight from the Royal College of Art in 1954. They deliberately gave him more freedom to design without typical rules and constraints, which led to some of the best-known examples of his work being produced. These all captured the spirit of 1960s Pop Art such as the Drunken Bricklayer, Banjo, and Bark Vases. These are all now highly collectable with prices always rising, currently in the region of £200 – £900.
Wedgwood, known for its ceramics, also made glassware in the 1970s and one of the most popular designs was the Sheringham disc candlesticks by Ronald Stennett-Willson. They came in different colours, sizes and number of disks which all help to make a collection with great visual impact.
Mid-Century Czech glass (previously known as Bohemian) is a relatively new area for collectors, making it an affordable place to start a collection. Pieces which were made after the Second World War and before the political revolution, are still being discovered today, along with research into how they were made (not previously possible under the Communist regime). Glass designers of this period took inspiration from Italy and Scandinavia, and most glass was made for Sklo Union (Sklo is the Czech word for glass), which was a group of factories united in 1965.
Top designers to look out for Frantisek Vizner, Vladislav Urban, Frantisek Peceny and Rudolf Jurnikl who all designed for Rosice and Hermanova Hut, some of the factories that became part of the wider Sklo Union group. Rosice lens vases are popular and affordable starting at around £20, as well as Frantisek Peceny's textured clear glass vases for Hermanova designed in the 1970s.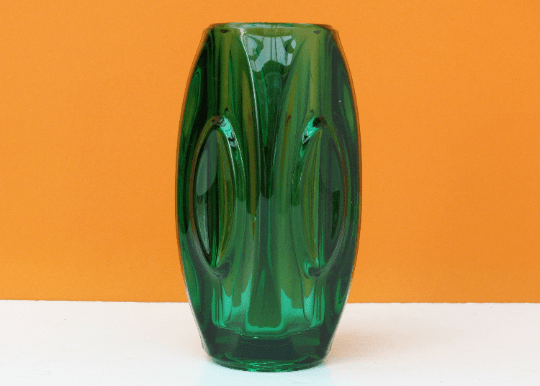 What to look out for
Unfortunately, a lot of the mid-century glass pieces you find today are usually missing labels and signatures, so it is difficult to tell at first glance the designer and factory. However, some research such as looking at old catalogues from the factories and verified websites will help. Scratches on the base help to mark its age (usual wear and tear as it would have been moved between surfaces), as well as a visible pontile (break off) mark for studio hand blown glass, and a smooth concave base for manufactured glass all help to verify authenticity.
Some designers did sign their pieces, and some factories put their makers marks on the base, Orrefors in Sweden was good for this. In terms of quality, you can usually tell a good piece by its weight and lack of flaws. Avoid chipped or damaged pieces as these will all affect value.
Where to buy
The National Glass Fair (glassfairs.co.uk)
20th Century Glass Shop (20thcenturyglass.com/store) – also has an excellent glass encyclopaedia
Mark Hill Antiques and Collectables Shop (markhillpublishing.com/shop/)
The Vintage Glass Shop on Ebay (ebay.co.uk/str/thevintageglassshop)
Rachel's Vintage & Retro (rachelsvintageretro.co.uk)